Uganda is the New 'It' Tourist Destination
---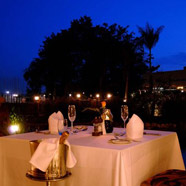 "The person who has not traveled widely thinks his or her mother is the best cook." -
Ugandan Traditional Proverb
Having been to The Serena Hotel in Kampala, Uganda, and eaten some of the most delicious East African cuisine, I can tell you that while my Mom was an excellent cook (Hi, Mom!), she has nothing on a master chef. In Uganda, there aren't many master chefs, in fact most of the restaurants are locally-owned establishments where Mom actually is cooking, but The Serena Hotel is a bit different. Beneath The Serena's rose-colored towers high above downtown Kampala lies a restaurant that indulges all 5 senses, and maybe the 6th sense too. The sense of wonder!
The flagship restaurant, The Pearl of Africa, is stunning! And the views over the terraced lawn and pools are immaculate. In fact with the cascades of a 7 meter waterfall flowing into the largest pool complex in all of Uganda, The Serena Hotel in Kampala even outdoes itself. Why itself, you ask? Well The Serena was already the finest establishment around, but just last year completed renovations to make it a premier destination in not just Africa, but the entire world.
Given the abundance of activities in Uganda (and shhhh! the prices are much lower than in other parts of Africa), including incredible big game safaris, gorilla trekking, the white sand beaches of Lake Victoria, and amazing freshwater sport fishing, I can't understand why more travelers aren't flocking to this burgeoning tourist mecca. The reason: It's still not quite discovered, so you can be among the first to go and enjoy everything Uganda has to offer. When you do, stay at The Serena Hotel in Kampala, and let them take care of the rest.
---