Trouble in Paradise: Debtors' Prison in Dubai, Lay-offs at the Atlantis, The Palm
---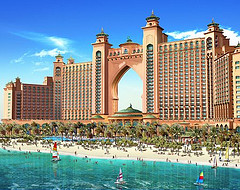 Just when
we finished waxing poetic
about the acclaimed Nobu outpost at Atlantis, The Palm in Dubai, we get word that the $1.5 billion resort, constructed on Dubai's palm-tree shaped island, is
laying off workers.
70 staff members were let go just five months
after the celebratory opening. In fact, an
eye-opening article in The New York Times recently highlighted
the scary reality of en economy in free fall in what was once a fast-growing paradisical playground in the Arabian Gulf. Foreign workers riddled with debt (living in fear of debtors' prison), 3,000 cars abandoned in the Dubai Airport's parking lot, falling real estate prices... After reading this,
travel guru Arthur Frommer was left wondering about Dubai
as a vacation destination, and reflected on his blog about Dubai's "true colors."
---