Travel Trends: Voluntourism, and Give-Back Getaways with Ritz-Carlton Hotels
---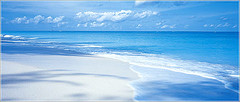 Volunteer tourism, a.k.a "voluntourism," is a growing trend in travel, and more and more travelers are jumping on the bandwagon and planning to volunteer during their vacations.
Forbes Traveler sums it up nicely:
There comes a point — generally when you're on your third margarita, sunburned over 60 percent of your body and the kids are screaming in the infinity pool — when you start to wonder if there is more to the whole vacation concept than lying on a beach getting toasted. A way of showing thanks for your own good fortunes, perhaps. You want a chance to contribute more to a local economy than buying overpriced trinkets that neither you nor your friends back home really need.
Ritz-Carlton has taken notice. They've created the Give Back Getaways program- to offer guests a chance to give back to the community with half-day local community experiences, working alongside Ritz-Carlton Ladies and Gentlemen in a Community Footprints humanitarian or environmental project. All profits from the Give Back Getaways programs are donated to the partner organizations. An example is the Blue Iguana Recovery Program at the Ritz-Carlton Grand Cayman, led by naturalist Jean-Michel Cousteau, where guests assist with the breeding program to help a unique species on the brink of extinction.
---