Travel with Pets: Lufthansa's VIP Animal Lounge at Frankfurt
---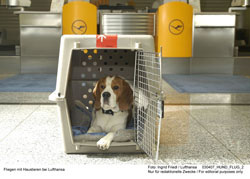 Traveling across the continents with your pet? Fly with Lufthansa, and Fido will be privy to some VIP pampering at the "Animal Lounge" in the Frankfurt Airport. The airline
recently opened
a specialized animal station for pets during transit, billed as the "world's most modern animal airport facility." Spanning 4,000 square meters, the dedicated space offers care, handling, feeding, and shelter facilities as well as veterinary care.
"The name 'Animal Lounge' is very appropriate for the new animal station because just like in an airport lounge for passengers, the animals can relax and rest there before and after transport,"
said Axel Heitmann, director, Competence Centre Animals of Lufthansa Cargo.
Some 14,000 household pets and 1,500 horses and wild animals pass through the Animal Lounge annually (ranging from polar bears to tropical fish), and Lufthansa promises that these animal "passengers" are ensured "the ultimate comfort."
---