Travel is not a Luxury; It's your Duty
March 3, 2009By: Mary Winston Nicklin
---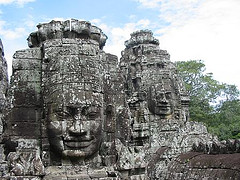 Don't write off travel as an unnecessary expense. It's not just for the inspiration and self-renewal which travel bestows us. Beyond personal (maybe even selfish) reasons, travel creates cross-cultural understanding and real economic development around the world.
A recent article in the San Franciso Chronicle-- entitled "It's Your Duty To Travel" -- is compelling
:
But as lousy an idea as travel might seem right now, remember that in your favorite corners of the world, a lack of travelers is even worse. There are few places in the world, I think, where people understand that as well as we do in visitor-hungry San Francisco.
Destinations are not just epic cathedrals, sky-piercing mountains, astonishing museums and ancient realms. Destinations are also people.
In the aftermath of Hurricane Katrina - even when the French Quarter, Garden District and the Faubourg Marigny were deemed ready for business - New Orleans was a hollow, crippled site, hobbled by the lack of the people who flavor the gumbo, figuratively and literally.
Equally important to remember: Places are not just the site, and the people surrounding it, but also those who visit, those who bring flavors from outside to season the local gumbo. Without travelers (or visitors of any stripe), the Grand Canyon would be just a road hazard, Disneyland would be, well, just kinda creepy, and New York would be (shudder) just New Yorkers.
If you love the places where, in a normal year, you would go to seek soul-salving experiences, and you have the means by which to get there, you need to find the willingness to go - not out of pity, but to be a part of the place and to keep the gumbo cooking.--
Image by Mary Winston Nicklin
---