Things that Go Bump in the Night: The New Nightclub in the LES, SGTs
---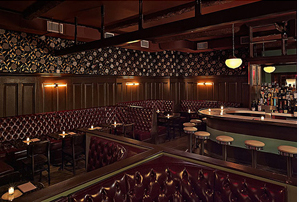 Just when you thought Ludlow St. in Manhattan couldn't get any hipper,
Hotel Chantelle
(which is actually a bar and restaurant) goes and opens a new speakeasy,
SGTs
, rumored to be named after a French World II safe house.
Try the first floor first - take a seat on the crimson-colored leather banquettes or take a gander at the 18th and 19th-century salvaged wood that serves as a cozy decorative mainstay.
But then keep your eyes peeled for an illuminated exit sign inside Hotel Chantelle's bar and descend the stairs to discover the hush-hush dance club SGTs, all 7,500 square feet of it.
And just in case you're thinking of this bar as a the kind of place to hunker down in winter with a warm pint of Guinness, rest assured that come spring, all the scantily clad sirens of NYC will be flocking to the pending greenhouse rooftop garden with retractable roof.
---