The World's Most Expensive Dessert: The Fortress Resort, Galle, Sri Lanka
---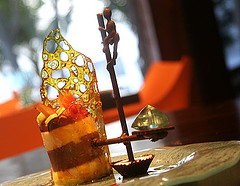 A mere $14,500 will buy you a tasty, fruit-infused treat served with an 80 carat aquamarine stone. As reported by the
International Herald Tribune
, this artistic masterpiece includes a gold leaf Italian cassata flavored with Irish cream, mango and pomegranate compote-- along with a handmade chocolate carving in the shape of a local stilt fisherman (pictured). The inspiration behind the
"Fortress Stilt Fisherman Indulgence"
is the resort's logo itself; stilt fishing is a centuries old tradition along the beautiful Sri Lankan coastline. Apparently no-one's yet forked over the cash to try this concoction. If you are so tempted, head to the
resort's Wine³
, a modern glass cave which showcases a breathtaking array of 2,000 Old and New World wines. Your indulgent dining experience is enhanced by the use of handmade glass cutlery, created exclusively for
The Fortress
by
Glass Studio
.
---