The Peabody Ducks Get New Digs: "Royal Duck Palace" on the Roof of the Peabody Memphis
---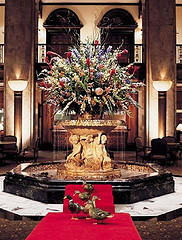 The
Peabody Memphis
is as legendary for its marching ducks as it is for its luxury accommodations. One of Memphis' most popular attractions, the Peabody Ducks march to and from the Grand Lobby daily at 11 a.m. and 5 p.m.- led by Duckmaster Jason Sensat- where they hang out in the lobby's marble fountain. This is a "time-honored tradition dating back to 1933." Because of this affectionate mascot, duck is not served on the menu at the hotel, making
Chez Philippe
possibly the only French restaurant in the world that does not serve duck dishes. According to
the hotel
, A-listers flock to get their duck fix:
The Peabody Ducks have been a must-see Memphis attraction for Lisa Marie Presley, Michael Jordan, Nicholas Cage, Priscilla Presley, Don King, President Jimmy Carter, Faith Hill and Tim McGraw, Justin Timberlake, and Jeff Bridges. In addition, Patrick Swayze, Oprah Winfrey and Gayle King, Florence Henderson, Emeril Lagasse, Joan Collins, Molly Ringwald, Chris Matthews, Paula Deen, Larry King, and Kevin Bacon have been Honorary Duckmasters.
And now the Peabody Ducks have a new suite to call their own, a 288-square-foot rooftop palace that boasts a granite sun deck and a swimming pool with a duck sculpture.
---