The Octagon Bar at The Clarence, Dublin: World's Hottest Hotel Bars
---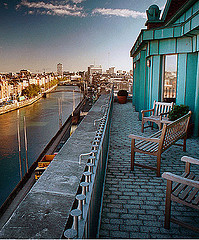 The Octagon Bar has been a favorite Dublin watering hole throughout the hotel's 15 year history. After all, this joint belongs to Bono and The Edge of U2. (They purchased the hotel in 1992 and restored it into the city's premier boutique hotel.
The Clarence
is now on
Conde Nast's Gold List
. It's got the U2 stamp all over it.) The hotel's chic bar, which features an octagon-shaped dome, is adored by both locals and visitors. The award-winning cocktails are flavorful and fun, and run the gamut from Bubbly to Clarence Cocktails. (Highly-recommended: the apple strudel martini.) Of course there are plenty of tasty nibbles to accompany the libations.
---