The London West Hollywood: The Best Rooftop Pools in the U.S.
April 14, 2009By: Mary Winston Nicklin
---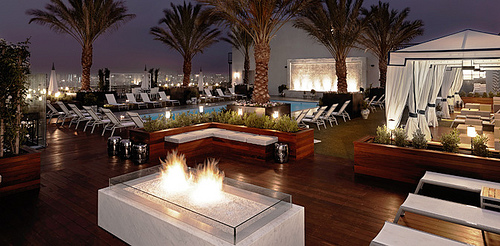 With sultry summer days just around the corner, we're anticipating checking out the country's best rooftop bars, what Travel + Leisure calls the newest (and coolest) hotel hangouts, in cities like New York, Dallas (The Joule will be the top summer spot in town), and San Diego (the Sè Hotel even has Cirque du Soleil-type performances on the roof). One of the best of the bunch can be found at The London West Hollywood, the new L.A. hotspot on the Sunset Strip. When it opened last year, the all-suite hotel got high marks for its Quintessentially concierge service and cuisine by star chef Gordon Ramsay. At the rooftop pool, you can check out the sweeping views of the Hollywood Hills and city skyline while indulging in poolside luxuries at one of four cabanas. Modeled after a traditional English garden, this lush oasis features Pool Concierge service and fitness facilities.
---
Related Hotels