The Highest Hotel in the World: Grand Hyatt Shanghai
---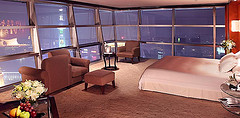 The dynamic, vibrant city of Shanghai is a city of superlatives: it has the fastest train on the planet (the Maglev train linking its two airports) and is also home to the highest hotel in the world, The Grand Hyatt. Situated in the 53rd to 87th floors of the Jin Mao Tower in the heart of Pudong, the Grand Hyatt Shanghai is easily the best hotel in the city. Nota Bene, the exclusive destination review, raves about the Grand Hyatt in its latest issue on Shanghai, recommending it over most of the city's other luxury hotels (which are mostly big Western chains, like Four Seasons, Westin, JW Marriott):
The Grand Hyatt's height, its floor-to-ceiling windows, its 87th-floor bar, the swiftness of its lifts, its views of the Bund; all are largely unbeatable.
Hipsters flock to Cloud 9, the hotel's sexy bar/lounge located on the 87th floor, the highest point of the hotel. The 360 degree city views are sensational. The spacious guest rooms and suites epitomize luxury, with modern amenities guaranteed to mesmerize even the most discerning travelers.
---