The Fabulous Evolution of the Hotel Mini-Bar
---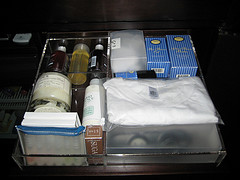 It all started back in 1963 with
The Madison
in Washington D.C., when the capital's landmark hotel decided to introduce a novelty: the in-room mini-bar! Fabulously convenient, stocked full of helpful items, the mini-bar is now universally appreciated (
late-night snack binging!
) and abhorred (
scandalous overpricing!
). Since its debut, the mini-bar has come a long way. In an era of truly over-the-top hotel amenities (baby butler service, pet pampering, unpacking and bath service), the mini-bar has been completely made over and sexed up.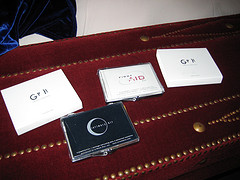 Hotel Victor in Miami offers all kinds of decadent treats. A hotel this cool-- furnished by celebrity designer Jacques Garcia with retro furniture and an illuminated moon jellyfish tank in the lobby-- has gone one step further by introducing full-size in-room bars, stocked with a large range of liquor and "South Beach life-style essentials" like chilled eye masks.
The Ritz-Carlton in Atlanta caters to female guests with practical items like stockings and nail-polish remover. Gentlemen, don't despair when you forget socks at home! The mini-bar is stocked with fresh pairs of black socks to match your dark suits.
Omni Hotels created Sensation Bars in cities like New York, Chicago, Houston and San Francisco with all sorts of items to create soothing mini-spa treatments in-room. Think sleep inducing CDs, lavender pillow sprays, eucalyptus bath salts and mini Zen gardens.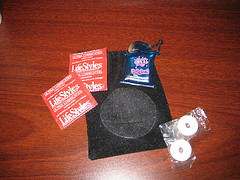 But the biggest trend of late is sex kits in the mini-bar. NY's 60 Thompson and Miami's Sagamore may have "Shag Bags," and the Montalembert in Paris has a "petite love box," but the Hotel Gansevoort has ticklers!
On a recent trip to New York, we snapped these shots of the goodies on-hand at the Hotel Mela and Gramercy Park Hotel. The mini-bar at Hotel Mela isn't refrigerated; instead you'll find a basket spilling delicious snacks, drinks, and an "Intimacy Kit." What's inside? Lifestyles, lubricant, and individually wrapped life savers. (We just couldn't resist buying one. As a *cough* souvenir...)
The mini-bar at Gramercy Park is nothing short of awesome (check out the pix). T-shirts, sweet treats... They've also got an Intimacy Kit, of course, but it's as classy as they come. And if things get too rowdy, there's a first-aid kit, to boot.
Curious? Be careful when you take that item from the mini-bar! Most of today's "smart" minibars have infra-red sensors (or wireless technology, found at the sophisticated Willard Intercontinental in Washington D.C.) that automatically records your purchase on your bill when you reach for, say, a bag of M&M's or something equally as tempting...
Photos Via Courtney May (top to bottom: mini-bar of Gramercy Park, Gramercy Park, Hotel Mela)
---