The Best of Interlaken, Switzerland: Spa Cruise and More with the Victoria-Jungfrau Grand Hotel and Spa
---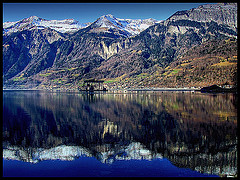 A stay at Interlaken's finest hotel, the
Victoria-Jungfrau Grand Hotel and Spa
, is itself an unforgettable experience. The panoramic views, over the lakes of Thun and Brienz to the Alps, are breathtaking. With an outstanding spa and wellness center and impeccable service, the Victoria-Jungfrau Grand Hotel embodies Old World European grandeur and is beloved by connoisseurs who appreciate the finer things in life. The best hotel in Switzerland's beautiful resort town of Interlaken, the
Victoria-Jungfrau Grand
is also a fixture on the
Conde Nast Traveler Gold List, which describes this first-class resort as follows:
Hardwood floors and bright colors create a loftlike feel in rooms, while stained glass windows in the reception area and satin-upholstered chairs pay homage to La Belle Epoque. "The old and new opulence are in great balance." The nineteenth-century lakefront property surveys a park and snowcapped mountains. Dining on Swiss food in the Jungfrau Brasserie is "like eating in an old-fashioned grand ballroom."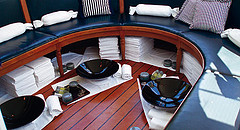 Over two weekends in September, the Victoria-Jungfrau partners with the Bernese Oberland Shipping Company to offer guests a luxurious spa cruise on the magnificent Lake Brienz (pictured). The MS Jungfrau is transformed into a "floating oasis of pleasure" so that guests can relax and take a deep breath in these majestic surroundings. Awaiting onboard: a variety of wellness and fitness activities, such as massages, masks, foot rituals, taiji, qigong and speeding bikes. Available Saturday and Sunday, September 20th and 21st, and September 27th and 28th.
---