Terelj Hotel and Spa: Mongolia Gets a Five Star Destination Resort
---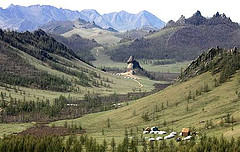 That's right. The wide, open spaces of Mongolia, birthplace of Genghis Khaan, the "great unifier," are getting a luxury edition. Located just 50 kilometers north of the capital city of Ulaanbaatar,
Terelj Hotel and Spa
is situated on the border of the Gorkhi-Terelj National Park, nestled beneath some of the most awe-inspiring scenery in the world: spectacular valleys with eroded rock formations, pine-covered mountains and grasslands carpeted with perennial wildflowers and edelweiss. Scheduled for a soft opening in October 2007, the hotel is a member of
Small Luxury Hotels of the World
, to boot. Originally built as a summer camp for the Soviets, the resort is reminiscent of an 18th century country palace. A mélange of traditional and contemporary elements, the hotel will be adorned with paintings and sculptures commissioned by Mongolian artists. Discerning travelers will appreciate the comfortable facilities: 52 luxurious suites, a selection of restaurants, a pool pavilion, spa, conference facilities, and a wedding garden. A highlight will be the overnight excursions to the Terelj Camp where guests will have the opportunity to immerse themselves in the local culture and cuisine.
---