by Courtney W. May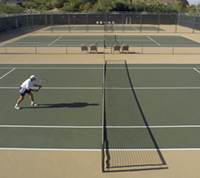 DailyCandy has done it again. Previously they sent out an Editorial Newsletter about Mr. Mohammed Bendraoua, a jet set masseuse for the masses which I loved - and now I've just gotten the message about Juan - "Juan in a Million".
Juan Carlos Marulanda of 'Tennis by Juan', is a "Colombian native (who has played professionally and taught for years)" and now "offers private lessons to any level of player on any type of court" in the Washington, DC area (Hint - that includes the DC area hotel tennis courts too ...).
According to DailyCandy, "Just arrange a public court to play on, and Marulanda will show up to help you learn the basics or ace your almost-perfect serve. Not to mention make sure you have fun while doing it."
Get in touch with Juan by calling 703-863-4740 or e-mailing him at [email protected].
---