Sky-High Luxury Hotels in Tibet: St. Regis, Shangri-La & InterContinental Head to Lhasa
---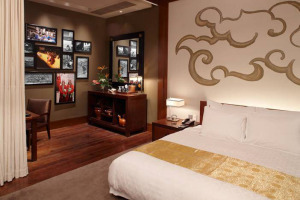 First it was the St. Regis.
As we first reported a few years ago
, Starwood set its sights on bringing its signature St. Regis butler service to the remote capital of Tibet,
accomplished last month with the opening
of the
162-room hotel
-- steps from the UNESCO World Heritage sites of Potala Palace and Norbulingka. While taking in the awesome views over Lhasa, guests can luxuriate in rooms equipped with marble bathrooms, plasma screen TVs, and yes, high speed Internet. And now other luxury brands are following suit, opening luxury hotels on the roof of the world. (Tibet is indeed the highest region on earth, with an average elevation of 16,000 feet.)
A recent article in Bloomberg Businessweek calls attention
to the current trend in China of targeting remote locations for hotel growth, because of the glut in lodging in the urban areas:
In 2012, Shangri-La Asia will open a 350-room hotel in Lhasa, and InterContinental Hotels Group (IHG) plans to add a high-end, 2,000-room hotel in the city within three years. Visitors to Shangri-La's Lhasa hotel will be able to experience Tibetan welcome rituals and the local hand-churned butter tea, which is believed to be beneficial at high altitudes and prevent chapped lips. The property will feature a full-service clinic to attend to guests who suffer from altitude sickness... "Luxury today is not about champagne and caviar but about experiencing something your neighbor hasn't," says Jonas Ogren, a Singapore-based director for STR Global, an industry research company. "It's about experiencing champagne and caviar at Everest Base Camp."
Interest in Tibet, especially among the Chinese, has increased since the opening of the Qinghai-Tibet railway four years ago.
---