Say Hello to the New Ritz-Carlton Toronto, Open Today
---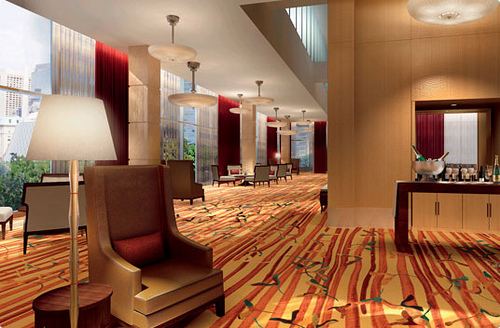 Get ready, Toronto. A slew of new luxury hotels is arriving on the scene. Trump has set his sights on the buzzing metropolis (the hotel is forecast to open this spring), as have Shangri-La and Four Seasons. But first: The Ritz-Carlton Toronto has been readying to open its doors. This is how The Toronto Star describes the meticulous preparations:
In the elegant hotel lobby adorned with bronze maple leafs embedded in the floor, men and women in blue Ritz Carlton lab coats back are lecturing employees on the fine art of greeting guests. In the sleek wood and leather spa, hotel workers are practicing manicures on each other. In the second floor hotel restaurant, employees are eating filet mignon. They pay for the meal with play money. In the top floor club rooms reserved for executives, the executive pastry chef has prepared a spread of petit fours. Despite an absence of guests, he has been doing this for the last several days. Putting on the Ritz is not taken lightly by parent company Marriott Corp which has flown in a crack team of trainers to make sure the hotel works. Every operational detail is worked out with military precision before the doors open.
Focused on top-of-the-line service, the new Ritz-Carlton Toronto has employed 450 workers for just 267 guest rooms. What else is on offer? A posh spa that sprawls across 23,000 square feet, a location in the financial district just a block north of the Metro Convention Centre, an exceptional restaurant (TOCA by tom brodi) with a "Canadian" menu showcasing homegrown, naturally-raised and fresh-caught ingredients. The Ritz-Carlton Toronto is open today.
---