Rock Legend Chooses Montreal's L'Hotel Le St James
---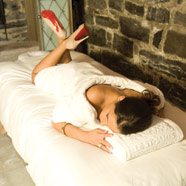 When I saw the penthouse suite encompassing the top floor of
L'Hotel Le St James
in Montreal, I quietly asked the manager who could possibly afford to stay here. He looked at me with knowing eyes and whispered into my ear. He said, in French, "Only the wealthiest and most famous, to be fair. Several big names that you would know for sure, and one very famous rock star recently." I wanted to know who and probed further, but he politely informed that he could not divulge the name. His clients, from the wealthiest (rock star) to the least affluent (me), come here to relax and enjoy a stay in Montreal's finest hotel. They didn't want to be troubled by paparazzi, and certainly didn't want to be followed around on previous or forthcoming visits.
So I did some research of my own, on the internet, on the phone, and in some of the clubs and restaurants around L'Hotel, which, being the finest in the city, would surely have been visited by the certain persona non grata. And indeed, wow! When playing Montreal if REDACTED chooses the St. James, then I had come to the right place. REDACTED is known for choosing elegance, and the sultry sounds of REDACTED would be at home only in the finest of hotels. Color me impressed!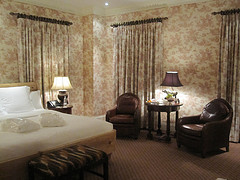 But L'Hotel Le St James was equally amazing for a meager guest like me. I merely had a normal room, if you can call it that, as it had the largest tub I'd ever had the pleasure to soak in, and the most comfortable bed my ailing back had ever rested on. Not to mention the views of the Old City, just outside the frost covered window. In fact, gazing out through the light snow, I could gaze out over the spires of the Notre Dame Basilica as well as the ice-strewn Saint Lawrence River, coursing through the old port. Beautiful!
One final note: Since my visit fell over the holidays, I was excited to celebrate in style. I inquired with the concierge about getting reservations for Christmas brunch at the downstairs eatery, XO Le Restaurant, recently awarded 4 stars, and was pleased to find a spot available. The decadent food was only matched by the marvelous service and décor. The staff presented me with a glass of excellent champagne flown in from France, and I raised a glass, "Joyeux Noel!" Merry Christmas, indeed.
Editor's Note: A picture of the author enjoying his stay:

---