Prada Spa Experience at Ritz-Carlton Hotels
January 5, 2007By: Mary Winston Nicklin
---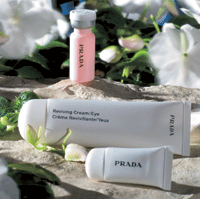 What could possibly be more luxurious than the Ritz-Carlton Spas? A ritzy spa experience with Prada Beauty skin care products. Select Ritz-Carlton Spas have partnered with Prada to bring lucky guests the ultimate in blissful pampering and relaxation. There are four indulgent beauty treatments available: the Prada Exfoliant Visage (a gentle peel that eliminates dull surface cells while re-texturing and re-vitalizing skin), the Prada Radiance Visage (Prada's highly advanced Lightening Concentrate/Face contains a freshly mixed Ascorbic Acid that works to lighten dark spots and correct irregular pigmentation, thus restoring luminosity), the Prada Reviving Visage (an intensive, non-surgical treatment that dramatically lifts and firms facial contours, reduces the appearance of lines and wrinkles, and restores natural beauty to mature skin), and the Prada Replenishing Body Facial (a soothing re-mineralizing treatment that uses a combination of specialized massage techniques and Prada's signature scent).
Participating Ritz-Carlton Spas include Georgetown, Huntington, Laguna Niguel, Naples, Reynolds Plantation, Half Moon Bay, Key Biscayne, Lake Las Vegas, Orlando Grande Lakes, Sarasota, and South Beach-- the award-winning La Maison de Beauté Carita, the only location of this signature spa outside of Paris. All Prada Beauty treatments include eight single-use Prada beauty products to continue the luxury at home. Talk about indulgence.
Related Articles:
Daily Candy DC, "The Weekend Guide"
---
Related Hotels