Pink Dolphins? Hong Kong?
January 24, 2006By: Mary Winston Nicklin
---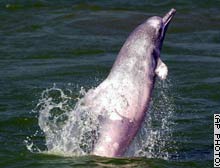 You've got to be kidding me. But as CNN reports, HK is no longer just about glitzy skyscrapers, designer shopping and gourmet eats. Throw ecotourism in the mix; the city is one of the best spots to see Indo Pacific humpback dolphins, which just happen to be totally, completely bubblegum-pink. Sign up with tour operator Hong Kong Dolphinwatch, who normally spots these uncanny creatures 97 percent of the time on tours in the South China Sea.
---
Related Hotels