New from Jumeirah: Take Luxury Home with You
---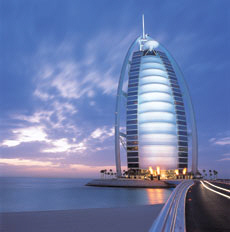 Jumeirah already has an undeniably impressive collection of properties (including the award-winning
Jumeirah Beach Hotel
and
Burj Al Arab
, celebrated as the world's most luxurious hotel) and the Jumeirah group has embarked on an ambitious expansion drive to include key resorts in cities the world over (London, New York, Shanghai, Doha...) But perhaps the most exciting news of all for Jumeirah fans:
It's now possible to order those sumptuous Burj Al Arab bathrobes and bedding from the Jumeirah Collection, a dedicated retail Web site.
The newly-launched online store features exclusive products and innovative services. And for those who like to travel light, take advantage of the
"Pre-Arrival Service"
and order essential vacation items online prior to staying with Jumeirah. When you arrive, you'll find all the goodies already in your room. And get this: Before the end of the year, you'll be able to order the luxurious new
Burj Al Arab
Dux Bed from the Web site, at the same time it debuts in the hotel.
---