Loews Hotels Jumps on the Anti Trans-Fat Bandwagon
---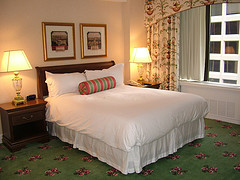 Hot on the heels of New York City's decision to ban all artificial trans-fat in restaurant cooking, Loews Hotels has announced its own ban on trans-fat at its 18 hotels and restaurants. Loews has become the first hotel brand to do so, in an effort to create healthier kitchens and lifestyles. The full ban on artificial trans-fat will be implemented by June 1, 2007, and applies to all restaurants, room service, and snack service (bye bye, late-night-snack-binging at the mini-bar!) Forget pastries made with shortening (and all that partially hydrogenated badness); real butter will resume its important role in the kitchen as an all-natural ingredient.
Related Articles:
New York Times, "In City's Trans Fat Ban, a Challenge Fit for a Chef"
TravelWeekly, "Loews Hotels to trim the (trans) fat from foods by June 2007"
---