Las Vegas Channels London with New Nightclub at the Luxor, Savile Row
---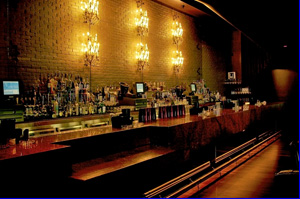 Defying the typical neon-lit scene of Las Vegas, a new nightclub has opened its gilded gates,
Luxor, Savile Row, boasting serious exclusivity amid the old-world charm of an English manor circa 1860.
Follow the 15-foot hedges and flickering gas lamps to the invite-only club which counters its rustic essence with a touch of brilliant eccentricity - guests will discover a DJ booth flanked by tables crafted from antique Singer sewing machines.
Helmed by Angel Management Group, Savile Row offers 2,000 square feet of sophisticated debauchery steeped in champagne and candlelight envisioned by the New York-centric designers Steve Lewis and Marc Dizon of Marquee NY, Butter and The Darby.
Savile Row even has a gatekeeper, Mike Diamond, who decides who can flounce past the velvet rope and enter the brick-laden and candelabra-strewn club inside, unless you were given one of 300 available memberships which allows you to call ahead and skip the line, entering through a private parlor.
A membership also allows you to give guest referrals, but there are no guarantees in the land of the pretty party people.
Check it out here: www.savilerowlv.com
Photo Courtesy of hauteliving.com
---