King's Cup Elephant Polo with Anantara Resort, Golden Triangle, Thailand
---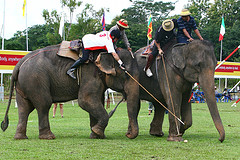 Thailand's highly popular
King's Cup Elephant Polo Tournament
returns to the hills of the Golden Triangle in 2008. Mark your calendars for March 31-April 6, for some serious fun in the sun. Event organizer,
Anantara Resorts
, describes the event as wildly entertaining, ranked as the 6th largest on the Thai tourism calendar. And it's easy to understand why. A charitable event that raises money for the country's National Elephant Institute in Lampang, King's Cup Elephant Polo is chock full of celebrities, seasoned elephant polo players, colorful parades and elephants. Plus, it's location in spectacular northern Thailand showcases the natural beauty of the Golden Triangle region, home to Thailand's elephant population. Indeed Anantara Resort has its own Elephant Camp, an on-site sanctuary for these peaceful pachyderms. Located 60 kilometers north of the Chiang Rai airport, perched on a ridge overlooking the hills of Myanmar and Laos, Anantara is all about laid-back luxury. Here you can experience the refreshing chill of a Northern Thai sunrise shrouded in mountain mist; the rush of a longboat ride up the Mekong to Laos; the exhilaration of riding an elephant through bamboo jungle along the border of Burma.
PS. The sport of Elephant Polo poses no threat to the participating creatures, says the World Wildlife Fund.
---