Just Arrived! Truffle Puppies at Tennessee's Blackberry Farm
---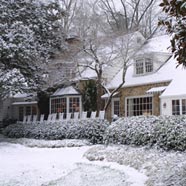 You've heard of truffle pigs. How about truffle puppies?
Blackberry Farm
in Walland, TN, is celebrating the birth of 8 Lagotto Romagnolo puppies.
These special dogs use their keen sense of smell to sniff out valuable underground black truffles. Born to Lussi and Tom, the in-house truffle dogs, the puppies will be busy during truffle season (December through February) on Tom Michaels' farm in Chuckey, TN. Then the darling pups will return to help out around Blackberry Farm, which is situated on 4,200 pastoral acres in the Great Smoky Mountains. I think we can all agree that the canines are a lot cuter than their fellow porcine sniffers.
---