Indulge in Hong Kong at the Luxe Manor
---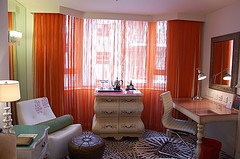 Indulge your quirky side with the delightfully unique
Luxe Manor
, located in the bustling city of Hong Kong. Surrounded by a variety of shops, museums and stores, the Luxe Manor offers a variety of activities outside the hotel to choose from, while also providing a unique place to stay. Furnished with a combination of Oriental, European and post modern decorations, each suite offers a different experience artistically enticing, yet comforting and luxurious.
The Luxe Manor Hong Kong
is also home to the extraordinary restaurant Aspasia, complete with bar and sit down dining area. Aspasia benefits from the talents of Chef Rolland Schuller, winner of multiple Michelin Stars, and presents a fine variety of Italian cuisine, among other delicious dishes. Each room includes an LCD television, marble bathroom, internet access, and room service.
The Luxe Manor
also offers a gymnasium, Business Centre, wireless internet throughout the hotel, and various childcare and car services.
---