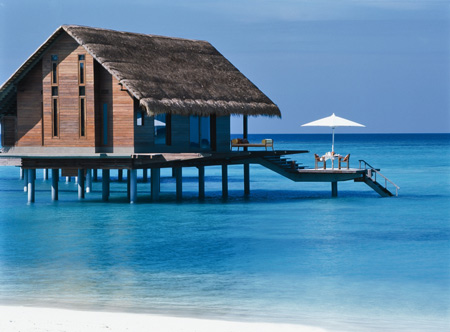 Our celebrity friends we love to hate tend to have extravagant and luxurious experiences. Whether it's a romantic getaway or family vacation, these travelers tend to embrace the go big or go home attitude and stay in the best of the best accommodations around the world. Check out where a few of our favorite A-list Hollywood stars spent their romantic honeymoons!
Jay-Z and Beyonce honeymooned at the Sanctuary on Camelback Mountain in Scottsdale, Arizona. This couple stayed in one of seven private homes equipped with a secluded patio and private pool to steer clear of paparazzi and fans.
Fergie from the Black Eyed Peas and husband Josh Duhamel escaped to the One and Only Maldives at Reethi Rah after their wedding and stayed in an incredible 2,500 square foot Grand Water Villa. The couple remained pretty active and took advantage of opportunities to snorkel, water ski, scuba dive, and kayak.
Ryan Reynolds and Blake Lively had a quick 1-night stay at the Inn at Little Washington in Washington, Virginia after their secret wedding near Charleston, South Carolina.
Nicole Kidman and Keith Urban stayed at the St. Regis Bora Bora back in 2006 for their honeymoon, and the details of what the couple did remained confidential, but we imagine they did a little bit of sun bathing, swimming, and a few other activites that took advantage of everything Bora Bora had to offer.
Planning your honeymoon? Tell us about it on Facebook or Twitter!
Image of the One and Only Maldives at Reethi Rah
---