High Fashion Goes Deliciously High-Calorie at London's Berkeley Hotel
---
Fashion and food aren't often put together (do models even eat?), but
The Berkeley
has found a delicious way to be part of London's all-important fashion scene,
as we've reported before on The Informed Traveler.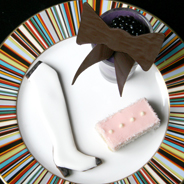 Now the
International Herald Tribune
has a fascinating article about how high tea has gone haute cuisine at
The Berkeley
.
The London luxury hotel dishes up edible versions of designer collections at its fashionable high tea. The confectionery delights, which are updated every six months, include a chocolate cookie Valentino red coat, complete with gold buttons; and a yellow handbag made of banana sponge cake and adorned with a gold leaf clasp. If you'd like to indulge in some sartorial cuisine, be advised that you should book at least a month ahead of time, and expect to stay at least two hours.
---