Green Hotel Rooms on Display at the Hospitality Design Expo in Vegas
---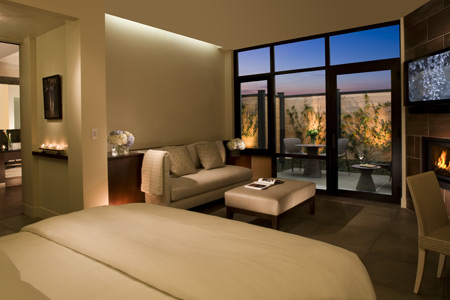 Cutting-edge green hotels like
Napa's Bardessono
are paving the way for the future of hotel design. In fact, the recent Hospitality Design Expo in Las Vegas held the first-ever "green" hotel room design competition (sponsored by the U.S. Green Building Council, the American Society of Interior Designers and the Hospitality Industry Network). The winning room had neat eco-friendly features: an outdoor deck with lavender plants irrigated with water from the shower, recycled materials, solar-heated water, and no tub.
As reported by the Las Vegas Sun:
Sustainable or "green" may be one of the most overhyped buzzwords in corporate America — one that's often more about marketing gimmickry than environmental stewardship. And yet, luxury-hotel companies say operating buildings that are less harmful to the environment will soon become a business mandate, although it's far from mainstream today. Contests and trade shows like this one are spreading that message in the hotel industry, which is behind others in adopting green standards.
---