Going to Singapore: New Arts Hub in Asia
---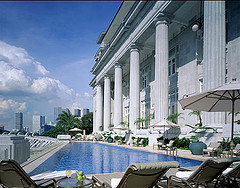 The arts are blossoming in Singapore,
reports the Wall Street Journal
, as the city works hard to continue to lure international tourists and foreign expatriates to a happening cultural scene. To "claim status as a global performing arts city on a par with London or New York," Singapore is relaxing some long-held taboos:
Hollywood actor Ethan Hawke stars in a production of Shakespeare's "The Winter's Tale," staged here this week by British director Sam Mendes. Meanwhile, across town, the curtain is rising on Oscar Wilde's "The Importance of Being Earnest," with an all-male, all-gay cast. These are the latest marquee productions...Theaters here increasingly are allowed to take on risqué social and political themes, a sign this tightly controlled Southeast Asian city-state is starting to loosen up.
Indeed Singapore is making a big effort to foster the arts; the state-run Singapore Arts Festival in May and June brings in 700,000 visitors to performances of theater, music and dance by local and international artists. Where to stay in this increasingly-vibrant Asian capital? The Fullerton Hotel, of course, which the Wall Street Journal puts at the top of its list. Housed in an old colonial-era post office on the Singapore River, the hotel offers five-star digs in an unbeatable location: "In April, it has special room rates of $200 (299 Singapore dollars) weekends, $215 (328 Singapore dollars) weekdays."
---