Global Gourmet Cuisine at The Fairfax Embassy Row
---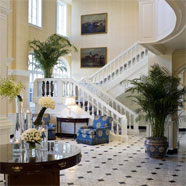 The legendary
The Fairfax at Embassy Row
has been a beacon of luxury and guest satisfaction in Washington DC since it opened in 1927, and their famed Jockey Club restaurant has always been the go-to dining destination for Washington DC's power players. Coinciding with the extensive restoration of the property just last year, as well as the reemergence of the Jockey Club,
The Fairfax at Embassy Row
is pleased to announce the Taste of Embassy Row, a new weekly affair. Every Wednesday evening from 5:30 to 6:30pm, the Fairfax Lounge will host a wine tasting and food pairing from a different world region. With the expertise of Jockey Club Sommelier Pierre Yves Robin choosing the wine, and Executive Chef Richard McCreadie selecting the food, this weekly event promises to be a gourmet delight.
---