Free Meals in Las Vegas with Mandalay Bay's Buffet Package
---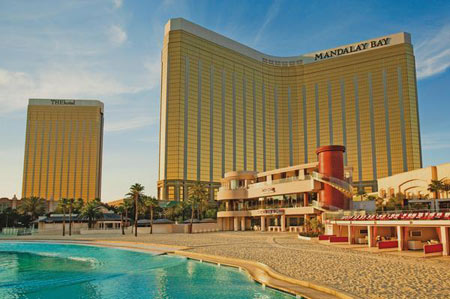 Jet to Sin City for a wild weekend of gambling, entertainment, and... eating. That's right.
Mandalay Bay
is enticing guests to not only soak up the sun on the award-winning, 11-acre Mandalay Bay Beach, but also to chow down for *free.* We've just learned about a new package at
Mandalay Bay
and its fancy, all-suite
THEhotel
which include all-day buffets for two. Here's the skinny
from the Los Angeles Times Daily Travel & Deal Blog:
Stay two nights at the hotel and you get two all-day buffets — breakfast, lunch and dinner — for two each day. Rates start at $66 per night for Mandalay Bay and $86 per night for TheHotel; prices don't include taxes or resort fees. The offer is good through Jan. 31. With this package, guests dine at the Bayside Buffet, which faces the water gardens at the hotel. Four all-day buffets usually would cost $160, a great value when it's rolled into the room price.
---