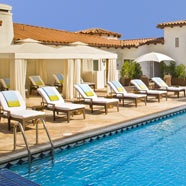 Going to the movies always makes me want to travel. Seeing the backdrops from around the world, makes me itch for that next experience. If you feel the same way, I've done your homework for you. This week three major films are opening with three very different settings. And if they give you that travel itch, I've recommended a luxury hotel in the area that can surely scratch it.
First off, the armored truck heist caper titled, appropriately, Armored. This action film starring Matt Dillon and Laurence Fishburne was filmed in Los Angeles, California (surprise, surprise), and centers around a plot to steal $42 million. Car chases and gun play are seen aplenty in the movie, but for a more serene time in sunny southern California, try the Sunset Marquis Hotel and Villas in West Hollywood. While the Sunset Marquis will certainly fill your luxury hotel quotient, it will also give you a chance to possibly rub shoulders with a few of the stars of your favorite films at the celebrated BAR hotspot, a unique L.A. watering hole.
Next up, go across the country for Robert DeNiro's latest, Everybody's Fine. This hilarious and poignant Christmas themed dramedy, sees DeNiro as a widower trying to reconnect with his family. While most of the filming for the production was done in nearby Connecticut, the shots from the Big Apple will make you long for a stay at The Peninsula New York located at the corner of 5th Avenue and 55th Street, a stunning address perfect for your own holiday adventure, this one of the shopping variety as the posh spot is home to some of New York City's finest retail destinations.
Finally, go down to the Southwest with Tobey Maguire, Jake Gyllenhaal and Natalie Portman in Jim Sheridan's opus, Brothers. This moving tale of love and family was filmed in the hills of New Mexico. You can enjoy the charm of historic Santa Fe at the Inn of Anasazi, a hotel that exudes comfort, luxury, and rich, southwestern beauty.
---