Fine Dining at Grouse Mountain Grill, Pines Lodge, Beaver Creek, Colorado
---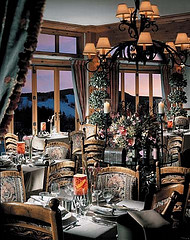 Stay slopeside at the luxurious Pines Lodge, and dine like a king at the Grouse Mountain Grill, the AAA Four Diamond Award-winning restaurant that features stunning views of Beaver Creek Resort. Zagat raves about the joint as the best in the region, and Grouse is the highlight of the annual Beaver Creek Culinary Festival. Executive Chef Ted Schneider prepares elegant game, beef, fish and fowl with a signature rustic style, served graciously in a warm, welcoming environment. For a divine taste of Grouse Mountain, try the recipe for honey & lemon venison osso buco with goat cheese risotto at home:
Honey & Lemon Venison Osso Buco
with Goat Cheese Risotto
Serves four
Venison
8 venison shanks, cut "osso buco" style
3 T vegetable oil
Flour
1 cup lemon peel, fresh
2 cups lemon juice
1 cup honey
1 cup brown sauce
Salt and pepper
Salt and pepper venison shanks. Dredge in flour and fry in vegetable oil, turning to make sure both sides have browned. Place in a baking dish. Add lemon juice, honey, lemon peel and brown sauce. Bake at 350° covered for 1 to 2 hours or until "fork" tender. Skim off excess fat, and serve over the goat cheese risotto with some of the sauce.
Goat Cheese Risotto
1/3 cup extra virgin olive oil
1/3 cup shallots, finely chopped
1 3/4 cups Arborio rice
1/2 cup white wine
6 cups chicken stock, hot
4 T butter
6 oz goat cheese, room temperature
Salt and pepper to taste
In a heavy bottomed pan, heat olive oil over medium heat. Add shallots and stir until translucent. Add rice, stir until coated with oil. Add wine and simmer until evaporated. Add half chicken stock, simmer until evaporated. Add remaining stock and simmer until evaporated until rice is soft on the outside with a chewy center. If rice is crunchy, add another cup of stock and allow it to evaporate. Repeat if necessary. Remove from heat and stir in the butter and goat cheese. Season to taste with salt and pepper.
---