Experience Oktoberfest in Style with a Stay at The Charles Hotel, Munich
September 21, 2007By: Mary Winston Nicklin
---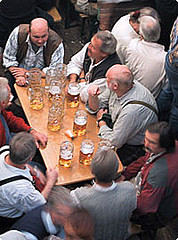 Come tomorrow,
Munich's
Lord Mayor will tap the barrel and thereby open
Oktoberfest
, the largest, beer-swigging funfair in the world. (At 12 noon, to be exact.) Join the German revelers for some serious beer-fueled fun until October 7, 2007. You don't need to go to
Hofbräuhaus
, the world's most famous beer hall (
aka Disneyfied tourist delight
), to experience traditional music, tasty Bavarian dishes, and a stein full of beer. Tents and beer gardens are set up all over the city. Don't miss the Costumes and Marksmen's Procession on Sunday, September 23, 2007. Book a room at the latest European five-star hotel from the Rocco Forte Collection,
The Charles Hotel
, and experience the elegant comfort and excellent service one would expect to find at a Rocco Forte property. Distinguished by its original, personalized design, the custom-built hotel boasts a top-notch health club. (Rooms are available at this brand new hotel beginning October 4, 2007.)
Related Articles:
"Announcing The Charles Hotel, Munich"
---
Related Hotels