Elounda Gulf Villas and Suites Wants You to Be Queen for a Day
---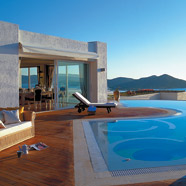 Crete's
Elounda Gulf Villas and Suites
is fit for a queen. Literally. Queen Rania of Jordan spent her summer holidays there in 2007, and who can blame her? All 18 villas have their own private pools, and the 10 luxury suites have been designed with peacefulness and harmony in mind. The property was also recently awarded a Five Star Diamond Award by the American Hospitality Services. In addition to the luxurious surroundings on a hillside overlooking the gulf of Mirabell,
Elounda Gulf Villas and Suites pampers its guests at their Elixir Spa Gallery, and wines and dines them at the Argo and Daphne Restaurants. You may not actually be a queen,
but Elounda Gulf Villas and Suites will make you feel like one, at least for a few days.
---