Charles Gibson Retires from ABC News – Luxury Hotels Ideas for Retirees
---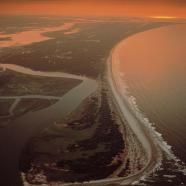 Charles Gibson, who has been an ABC News stalwart since 1975, aired his final network primetime news show for the Disney-owned network on Friday evening. With his famous sign off, simply, that his viewers have "had a good day," Gibson filled the anchor seat for the last time. Now, starting a much deserved retirement, the world is Charles Gibson's oyster, and like for any new retiree, there are plenty of luxury hotel options that can fill his days and nights to come.
The first thing I think of when pondering retirement is golf. And, frankly, there are few golf resorts more ideal than the sun-drenched luxury of The Sanctuary at Kiawah Island. This amazing island resort near Charleston, South Carolina boasts an incredible 5 courses, all done by masters of golf architecture! A true delight for retirees or duffers of any age.
For a more physical enterprise, retirees the world over are known indulgers in skiing, and I have to believe Charles Gibson and his ilk would choose the Badrutts Palace Hotel nestled amongst the Swiss Alps in world-renowned St. Moritz. The Badrutts Palace has something for everyone in all seasons, but in the place where winter sports became a favoured pastime, the skiing speaks for itself.
Sporting activities aside, the beach is the place to sun your retired bones, and the stunning La Samanna resort in St. Maarten, French West Indies is amongst the world's best. There are few better words to describe than paradise.
So best of luck to Charles Gibson in retirement, and may this next chapter be filled with luxury!
---