Cap Juluca Knows How to Lure Us to the Caribbean
---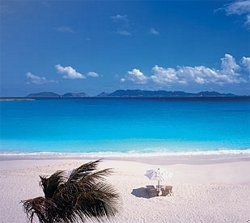 An email landed in our inbox that got us really pining for the Caribbean. Not that we needed another reason to think about sunshine, or a dreamy tropical escape on an idyllic island like... Anguilla.
Cap Juluca's
figured us out. Read away, but be prepared to book your plane tickets stat.
Rediscover Sunshine at Cap Juluca this Winter: We're not talking about the blinding sunlight that bounces off the snow and blinds you. We're talking about the warm Caribbean sunshine that blends with island breezes to offer the perfect climate for your mid-winter escape. At Cap Juluca, everything is warm this time of year: the sun, the sea, the beach and the hospitality. Mix that with a cold drink or two and you'll find your winter blues simply melting away.

The average temperature over the next few months at Cap Juluca is around 80° F. That may be about 80° above what you're used to this time of year.

Don't let Old Man Winter get the best of you in the coming months. Come to where it's warm, welcoming and wonderfully delightful. Come to Cap Juluca.
---