Burj Khalifa, Dubai Opens as the World's Tallest Building with First Armani Hotel
---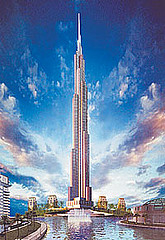 At long last, the Burj Khalifa* has opened at a cost of $1.5 billion.
We've been keeping tabs
on its construction over the past five years as the spire reached higher and higher;
Conde Nast Traveler has even nominated the building as one of the "new seven wonders of the architecture world."
As the world's tallest building, the Burj Khalifa soars 2,717 feet above the ground, allowing views of 60 miles for lucky visitors to the top floor. Yesterday's opening ceremony unveiled the tower that's billed as a "global icon." Though other worldwide construction projects--
namely the International Commerce Center in Hong Kong
-- may soon eclipse the Burj Khalifa. Home to the first Armani Hotel, the Burj Khalifa
also houses
"the world's highest swimming pool, on the 76th floor; the highest observation deck, on the 124th floor; and the highest mosque, on the 158th floor."
*The building was formerly called the Burj Dubai.
---