Brad and Angie Getting Hitched at Villa d'Este, Lake Como?
March 17, 2006By: Mary Winston Nicklin
---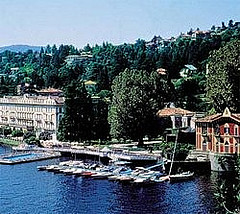 The rumor mills are churning, and our friends at the TravelPost Insider have picked up on this tantalizing tidbit. Stop the press: Brangelina may be tying the knot this weekend on the shores of Lake Como. What's in store at the elegant and perfect Villa d'Este? The 16th century aristocratic residence could easily be the most romantic place on earth. Draped in accolades, and revered worldwide, the villa overlooks 25 acres of picturesque gardens and the heart-stopping blue vistas of Lake Como. Rooms are simply magnificent, with period furniture, sumptuous silk and satin fabrics, some with balconies and terraces.
Villa d'Este, Official Site
Villa d'Este, Five Star Alliance
---
Related Hotels