Book Your Summer Vacation at Peter Island Resort in the British Virgin Islands
---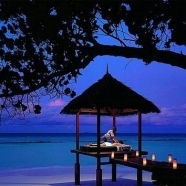 The time is now to book your summer vacation. Don't delay, as rooms are filling up fast and prices will soon rise to meet increased demand. And if you're like me and want only to lie on the beach this summer in total luxury, reserve a suite at the
Peter Island Resort
in the British Virgin Islands. This 5 star palace will have your lounge chair and beach umbrella ready for your arrival, and will put the straw in your favorite rum cocktail as soon as you walk through the door.
Named one of the "Best Places to Stay in the World" by Conde Nast Traveler, Peter Island is limited to only 52 rooms, so you won't have to compete for your spot in the Jacuzzi, on the beach, or in front of the steel drum band that plays the night away!
When you're not dancing or splashing in the blue waters, you can relax at Peter Island's 10,000 square foot spa that has its own secluded beach. The spa will cater to your every need, and make you forget all those long meetings and stressful deadlines... Peter Island Resort truly has it all!
So don't delay, book your summer vacation today, at Peter Island Resort in the British Virgin Islands.
---