Best Values at the World's Luxury Hotels: Think Mandarin Oriental Kuala Lumpur
---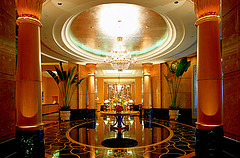 TripAdvisor
and
Budget Travel
have partnered together to create the first-ever
Budget Travel
Best Values awards
. These are the world's best luxury hotels with an average nightly rate of $250 or less.
Winners
were selected based on TripAdvisor's Popularity Index, and the average nightly rates were calculated with four different weeks throughout the year, during peak and off-peak periods.
It's not surprising to see the Mandarin Oriental Kuala Lumpur on the top 10 list. In a lower priced city like Kuala Lumpur, you'll find a real luxury value at the Mandarin Oriental, where rooms are extravagant, the spa is plush, and the infinity pool has views overlooking the lush 50-acre Kuala Lumpur City Centre (KLCC) Park. Plus, this award-winning hotel boasts two outdoor tennis courts and fine dining options galore. And the location is truly unbeatable: at the base of Petronas Towers and linked to the KLCC.
---