Be Treated Like a Queen at Tharroe of Mykonos
---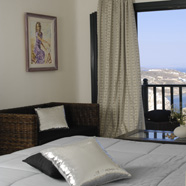 Longing for bright blue skies, sun-drenched beaches, luxury accommodations and a sense of history? Look no further.
Tharroe of Mykonos
is a blend of sophisticated luxury influences and modern facilities. Spotted on the top of a small hill, offering panoramic view of the Aegean Sea, Mykonos old town center and magical sunsets,
Tharroe of Mykonos
is close to the town center but away from the crowds. And whichever of the 26 rooms you stay in (all were renovated in 2008), you'll be staying in a space fit for a queen. During the Mycenaean period (1600-1400 B.C.), a King ordered the construction of a Thule tomb for his Queen. This tomb was discovered while the hotel was under construction and is now on display. Many amphorae, cylices, various pots and two golden necklaces were found during the excavation; some of them are now on exhibit at the Archaeological Museum of Mykonos.
---