Avoid Armageddon at the Canyon Ranch Lenox
---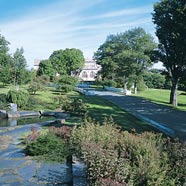 According to the Mayan legend, the 5th night of the great calendar represents the beginning of the end times. This 5th night will bring about the last desperate efforts of man kind to save itself from destruction. Unfortunately the Mayans aren't still around to tell us when exactly that starts. So while that 5th night might portend gloom and doom, you can enjoy a 5th night that will portend much better for the heft of your wallet. A 5th night FREE, that is.
You see at the Canyon Ranch Resort in Lenox, Massachusetts, part of the preeminent Luxe Worldwide Hotels group, if you book a 4-night all-inclusive stay, they'll throw in the 5th night absolutely free! Rules apply, availability is limited, and the deal runs out December 23, 2009, so book it now and reap the savings benefit immediately.
And oh yeah, while you're busy saving money, you can also take advantage of the all the luxury that the Canyon Ranch has to offer, like that incredible spa that has made this one of America's best known health resorts. So stop waiting, book your 5th before that Mayan 5th night finally does begin.
---