An Interview with the General Manager: Laurence Bloch of Hotel Plaza Athenee
---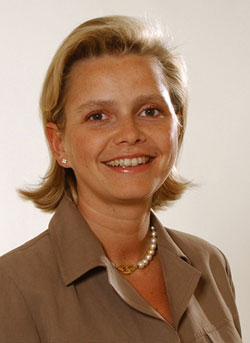 Laurence Bloch
is the Director of
Hotel Plaza Athenee in Paris
and holds a master's degree in Hotel Management from the Parisian Hotel College Maxims, as well as a solid hotel management background. Her previous hotel experiences include the Mas d'Artigny on the French Riviera, Prince de Galles in Paris, Park Avenue Hotel, Hotel du Parc and others.
In her previous position as Rooms Division Manager at Plaza Athenee, she actively participated in the relaunch of the five star property and helped to undertake the redecoration of the hotels' bedrooms and major investment projects.
Five Star Alliance: How did you come to be General Manager of the hotel?

Laurence Bloch: Via quite a classic route; 20 years of varied experience in the business after Hotel School, I became Rooms Division Manager at the Plaza Athenee and was then promoted to Deputy General Manager.
Five Star Alliance: Which do you consider to be the best rooms in the house? Not just the suites, but also any particular standard rooms that have great views or unusual advantages? If you were checking into a standard room at the hotel, which one would you request?

Laurence Bloch: I would choose the top floor of the building, the 8th floor, for its Art Deco style and its natural light and its airy atmosphere. You are woken by birds singing on the top floor which is quite a unique experience in a city centre hotel!
Five Star Alliance: Can you mention any interesting miscellaneous trivia regarding the hotel? Any special events that have taken place on property?

Laurence Bloch: Filming of the final episodes of the epic American TV series "Sex and the City" was quite an excitement for everyone, guests and staff included!
Five Star Alliance: Who are your customers and where do they come from?

Laurence Bloch: We are lucky to have a very equal nationality market mix: 1/3 Americas, 1/3 europe, 1/3 Asia and Middle east.
Five Star Alliance: Tell us what you feel is the most distinctive or unique feature of your hotel? What best describes the personality of the hotel?

Laurence Bloch: I feel that the Plaza Athenee is quite simply the most Parisian of the city's 5 star luxury hotels. As a Parisian myself, I have always believed that the Plaza Athenee has been emblematic of a chic Parisian way of life. The hotel's distinctive and unique location on the very fashionable avenue Montaigne has definitely added to the essence of this Parisian atmosphere. Privileged with a separate street entrance to the hotel's Brasserie, the Relais Plaza has been witness to celebrity visits from all ranks of the fashion, cinema and political world. The famous English Bar that existed on the lower ground floor since the opening of the hotel, was always a popular meeting place both for hotel guests and Parisians alike. This tradition continues with our innovative Le Bar which mixes a traditional and modern decor. This is the main ingredient of the Plaza Athenee's personality today: the ability to combine and respect tradition with innovation. For example, the symbolic red geraniums of our façade are now offered as spring gifts as mini plants or as jams or candies. Another very important and distinctive exclusive feature of the Plaza Athenee today is the excellency of our cuisine with the privileged, Michelin star partnership with Alain Ducasse.
Five Star Alliance: What is the best thing about the hotel's location? What is your favorite thing to do in the surrounding area?

Laurence Bloch: As previously mentioned the greatest attribute to the hotel's location is the local luxury shopping on offer; on the avenue alone there are 50 haute couture and fashion houses. Added to this wealth of choice are fabulous restaurants and bars in neighboring streets. The area is duly known as the "Golden Triangle" for a reason!
Five Star Alliance: Can you share the names of any famous guests who have stayed in the hotel, or perhaps regulars that return on a periodic basis?

Laurence Bloch: Sorry, this information is confidential!
Five Star Alliance: If you were considering staying at the hotel as a guest, what would you want to know about the hotel before checking in?

Laurence Bloch: I'd definitely want to know what the hotel had to offer in terms of F&B, in a gastronomic city such as Paris, why go further a-field, when the hotel has 5 different outlets under 1 roof. Also I would want to know which specialties were on offer; for example our Pastry Chef won the title of World Champion Pastry Chef, again it would be a huge shame to have missed sampling his fare.
Five Star Alliance: What is the hardest part about being General Manager? If you could change one thing about the hotel, what would that be?

Laurence Bloch: The risks involved are one of the hardest things of being the major decision taker; being an innovative leader in one's field of expertise, can be a lonely road.
Five Star Alliance: Other than your own, can you share your choices of two or three of what you consider to be the greatest hotels in the world? And why you think they are special?

Laurence Bloch: The Beverly Hills Hotel is one of the greatest hotels in the world, it is truly the champion for first class service and attention to detail; when once I left a book open at the page I was reading, a thoughtful book marker was placed inside inscribed with "to save your page..." The Imperial Hotel in New Delhi is another unique property. The essence of comfort and history is omnipresent but yet astonishing touches of modernism bring you back to reality, combined with perfect discreet service.
Five Star Alliance: Anything else you would like our readers to know about your property?
Laurence Bloch: I feel it important that readers should know how important our staff are. To be a true 5 star Luxury "Palace" hotel the personal touch is essential and this is achieved thanks to our 550 dedicated staff members for 188 rooms. We are proud of their loyalty and experience, often a lifetime's dedication - 49 years in the case of our Head Concierge. Also, it is important that our guests are aware that we take seriously the privileged, exclusive title of being a Luxury "Palace" hotel which bears the responsibility of regular financial investments, an engagement we proudly maintain. Finally, I believe it important to underline to our guests and readers that we are where we are today thanks to the Plaza Athenee's rich and glorious past, based on much experience and effort, a total team effort.
Learn more about the Hotel Plaza Athenee >>
---