An Interview with the Concierge: Hotel Gritti Palace Venice
---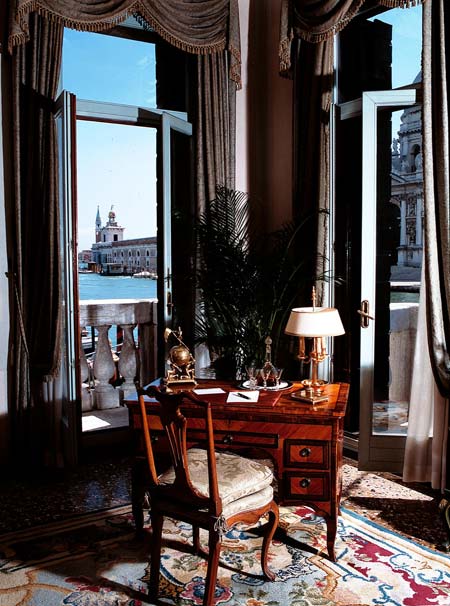 Directly overlooking the Grand Canal, with an incomparable view of Venice, the
Palace of the Doge Gritti
is one of the most celebrated hotels in the world. The
Hotel Gritti Palace
continues to attract elite guests, with luxuriously appointed rooms, attentive service, and the savoury cuisine of the Restaurant Club del Doge. The attentive service is embodied by the hotel concierge staff - who answered our questions below.
What activity do you recommend the most often?
A walking tour of the city with private guide; A tour of the lagoon Islands by water taxi; visiting all the most important museums; countryside excursions by private limousine, and visits to the Palladian villas.
Which restaurant do you recommend the most often and why? Who is it best for?
The Hotel Gritti Palace restaurant "Club del Doge" mainly for fish and Venetian dishes but also for deliciuos pasta; Osteria "Santa Marina" (Venetian, fish); "Met" (creative Venetian), or "Da Ivo" for a change ( tuscan food meat & fish).
What are the scariest requests you've gotten from guests?
On 9-11, the high number of requests from Guests to go back home and the impossibility to solve all the Airline tickets due to congestion.
What is the funniest request you've gotten from a guest?
A big knife from the kitchen to open a bottle of Champagne.
What is the strangest request you've gotten from a guest?
Request of parachute for a launch ...
Do you have any regular celebrity/famous guests?
We would upset many if we mention even a few of them.
What types of things have you been unable to do for guests?
Hard to remember... but only the illegal ones!!
What is your personal favorite part of the hotel?
The Terrace on the Grand Canal.
What are the things that you wish guests knew about the Concierge?
The Concierge is the best informed person in town, always aware of all events that are taking place in Venice; a miracle maker.
Because you are in a major international tourism destination, what kinds of language problems come up?
English and French are known by everybody. The upcoming market of China is raising interest in the oriental languages which until now have been quite unknown
How big is the Concierge staff at the hotel?
Twelve persons in total.
Are there any specialty concierges or all generalists for everyone?
Each one has to be able to fulfill the same specialist requests and general duties.
What is the average number of requests a day?
Depending on the season, on average 1 request per minute.
What is your favorite aspect of your job?
To serve the most important people of the World.
---