America's Favorite Architecture: Willard InterContinental, Washington DC
---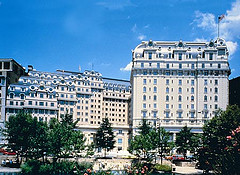 An American institution that has hosted almost every U.S. president since Franklin Pierce,
The Willard InterContinental
was recently listed as one of the most iconic buildings in the US. The Empire State Building and the White House topped the list of
America's Favorite Architecture
, according to a public poll of the 150 best works of architecture conducted by Harris Interactive and the
American Institute of Architects (AIA)
. The only DC hotel on the list, The Willard dominates the Pennsylvania corridor between the White House and the Capitol and was originally built in 1901 on the site of an older Willard property. At that time, Joseph Willard Jr. decided to create one of the city's first skyscrapers to "out-dazzle" anything else on the Washington horizon. The hotel's style? French Second Empire Beaux-Arts, distinguished by vast proportions and great columns, with an interior marked by huge chandeliers, inlaid mosaic marble tile floors, elaborate plaster work and painted and carved ceilings. Truly majestic. The newspapers of the day raved that The Willard was "The Handsomest of Washington Hotels," and today, guests are still dazzled by the hotel's architectural magnificence.
---