A Mancation at TI Las Vegas (Treasure Island)
---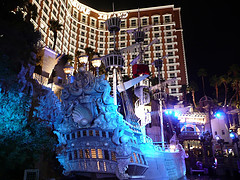 Story by Devin Herbers
I snuck off to Vegas for a Bachelor's party over the weekend in one of the few JetBlue flights that boarded during last Friday's east coast snowstorm. The 16 of us booked our accommodations at Treasure Island (now called TI) because it was the most affordable option for a big group. TI's facilities were for the most part mediocre but their recently installed spa "Wet" had an impressive layout, great massage options, and a fantastic weight room. Our room at TI was a Premier Suite and it was equipped with two marble bathrooms, a terrific Elite SensaTIonal bed, and a 50 inch flat screen - great for us group of guys.

However, my tastes for entertainment were better satisfied at The Venetian (located directly across the street from TI and recommended by Five Star Alliance) which was currently undergoing some new construction (but only mildly noticeable) to add another building/wing. The addition to the Venetian is nearly complete and when finished, it is proclaimed to be the "Biggest Hotel in the World." I spent a lot of free time in their new poker room - opened in late 2006. It was massive and the poker tables were the nicest I had ever laid my hands on (pun intended). I also made my way to the Venetian's nightclub Tao which is a big celebrity hotspot and deserves to be – it features the new trend of combining fine dining and nightlife into one.

The weekend was dubbed by ESPN (because of March Madness) as "the best four days of the year. It starts at 9 a.m. on Thursday and doesn't end until 7 p.m. on Sunday. It's just a whirlwind. It looks like a frat party from morning 'til night. Those are special days." That's a great way to describe a destination bachelor party in Las Vegas.
Visit the Treasure Island website for more information on the Premier Suite. You can also contact Devin for more juicy details.
---