Top 5 Romantic Valentine's Day Hotels: #1 The Point, Saranac Lake
---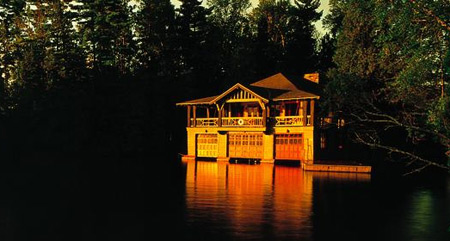 Valentine's Day is coming up, and, as such, it's time to think about where you'd like to spend the day with that special someone. Whether you're enjoying a cozy night in or an adventure on the town, a night in a luxury hotel can be the perfect gift to the both of you, a chance to escape to another world where no expense will be spared in giving you the night of a lifetime. What follows is just one in a series of our favorite romantic hotels, and, we think, a great place to take him or her this February the 14th.
What's The Point, you ask? While us single folks might attribute such a question to the vague sense of ennui that a romantic holiday instills, for the couples out there, you're clearly wanting to know more about the resort on Saranac Lake that just might be the most tranquil and exclusive hotel you could take your significant figure this weekend.  I use 'hotel' in only the loosest of sense to describe The Point, since the 11-room lodge is what you would imagine renting a 5-star private cabin might be like.  This lakefront lodge in upstate New York has all the serenity of a hushed winter morning where even the birds are afraid to break the silence, and it's personal service is unrivalled anywhere.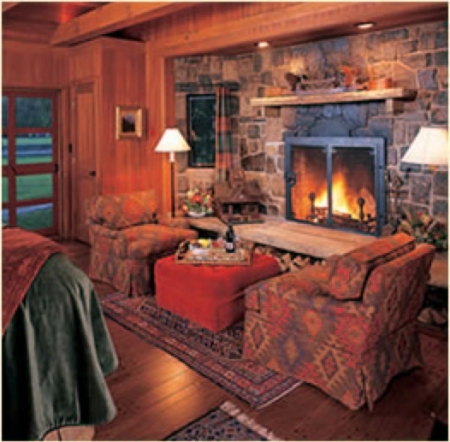 Nightly room rates are all-inclusive, so you can enjoy everything they have to offer. Not only that, dining is supervised by 3-star Michelin chef Albert Roux, which affords you a level of attention that even the top restaurants cannot afford to give their patrons.  No children under 18 are allowed on the property and there are no phones and televisons, so you need not worry about anything getting in the way of your perfect evening.  The Point offers the kind of intentional seclusion that is so rare in this connected world, and it is the perfect opportunity to lose yourself in romance.  
The Point is especially attractive to active couples who would enjoy the hiking, fishing, and animal tracking that the Point will happily recommend.  If a few biologists would just take a brief second to get out to The Point, they'd very quickly resolve one of the most hotly contested debates in modern science: nature vs nuture.  At The Point on Saranac lake, you can nurture your relationship by going back to nature, and there's no compromise involved. For my part, The Point is where I would take my hypothetical girlfriend this Valentine's Day.
---