LUXURY HOTEL INSIDER
The Luxury Hotel Insider
: Exclusive luxury hotel deals, features and special rates from the luxury hotel experts at Five Star Alliance.
Named one of Tripbase's
Best Luxury Travel Blogs for 2011
, below are Five Star Alliance's newest articles featuring exclusive information on luxury hotels worldwide including special offers and deals at the world's best hotels.
---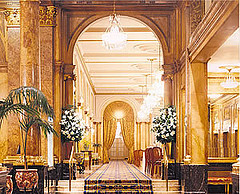 Welcome to the most elegant hotel in Latin America. The awards are numerous--Andrew Harper's Hideaway Report ("Among the World's 20 Best"), Travel and Leisure and Conde Nast Traveler (Top Hotels in the World)-- and the service, impeccable. Among the wide avenues, magnificent architecture, and splendid boutiques of the elegant Recoleta neighborhood in the "Paris of South America," the Belle Epoque Alvear Palace is a city historical monument. Furnished in the style of Luis XV, the rooms and suites are adorned with antiques and crystal chandeliers. Amenities include Hermes de Paris bath products, personal butler service, 500 thread Egyptian cotton sheets, telephone with intelligent screen to regulate AC, Wifi, and DVD players. Bathrooms are nothing short of magnificent, often equipped with jacuzzi and sauna. Guests are treated to the best buffet breakfast in the city, at Orangerie Restaurant, and the fine-dining restaurant-- La Bourgogne—is considered the best in the city, awarded "Latin America's Best Restaurant" by Wine Spectator. Indeed, the Alvear Palace Hotel is itself a symbol of Buenos Aires.
Alvear Palace Hotel, Official Site
Alvear Palace Hotel, Five Star Alliance
---
From Paul Reynolds, The Maybourne Hotel Group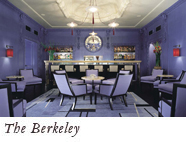 Madonna "Adores the Blue Bar" at The Berkeley. Claridge's main restaurant is run by (and named for) celebrity chef Gordon Ramsay. You can find out why so many people want to associate themselves with the London hotels of the Maybourne Group this March and April with 4 special deals. 'Suite Dreams' deals start at 299 pounds for a Deluxe Junior Suite at The Connaught, 339 pounds for a Superior Junior Suite at The Berekley and 359 pounds for a Deluxe Junior Suite at Claridge's. The 'April Special' allows you to 'sample five star luxury at an affordable price'. 'Work from 'Home' without the inconveniences' during March and April with a special rate for single occupancy of Queen-bedded rooms at The Connaught. Lastly, check out the specials being offered during Easter week with reduced rates at The Berkeley, Claridge's, and The Connaught.
Maybourne Hotel Group, Official Site
Claridge's, Five Star Alliance
The Connaught, Five Star Alliance
The Berkeley, Five Star Alliance
---
By Courtney W. May Cal Simmons recently brought to my attention Mr. Mohammed Bendraoua. Recently profiled in "Under Pressure" from Daily Candy, Mr. Bendraoua is famous for his luxury service and travel schedule. What does he do? His card states that he is a global 'relaxiologue' nomad. Traveling between New York, Paris, Milan and London-- he brings to you his bed, candles, iPod, and famous hands. The Oct 8, 2005 New York Times article "France's Trendy 'Relaxiologue'" states:
Mohammed Bendraoua spends several months of the year following the fashion circuit and handling the undressed bodies of the personnel responsible for telling the rest of the world what to wear. Mr. Bendraoua's card calls him a "relaxiologue," which translated liberally means masseur, although one who uses a variety of techniques to restore equilibrium. The method that has made him one of the better-kept secrets of the fashion circuit is an unorthodox melange of Eastern and Western therapeutic techniques, married to an instinct for restoring bodies contorted by permanent jet lag and a willingness to work weird hours. A massage from Mr. Bendraoua typically lasts three times as long as a psychotherapy session, but with faster results.
But now you have the chance to get in on the deal: Mr. Mohammed Bendraoua can be reached by email at mohparisfr@yahoo.fr or +00 33 6 13 21 39 79.
---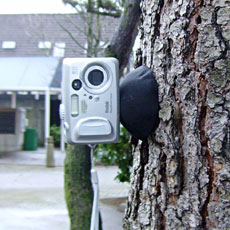 This ain't no suction cup. The Monsterpod stick-to-anything tripod is pretty revolutionary technology, billed as the "most incredible digital planet tripod on planet earth." The "patent pending viscoelastic morphing polymer super grip tripod" sticks to more than 1,000 objects (you know, the usual suspects: trees, traffic lights, windows...) Small, compact, and a mere $29.95.
---
My home town is getting a makeover and I couldn't be happier. Kimpton-- that most delightful hotelier-- has bought the aged, decrepit Holiday Inn in Old Town, Alexandria and plans a complete overhaul. At long last: the return of glamour and class to this prime real estate in the heart of Old Town's cobblestone streets, flickering gas lamps and gorgeous colonial homes! Kimpton is pumping in $22 million in its conversion; the new Hotel Monaco, Alexandria will have 241 colorful and unique guest rooms, a pool, fitness club, and fine dining. Bring it on.
---
From Lanny Grossman, Director of Communications, Small Luxury Hotels of the World In the last 18 months, SLH has received over 1100 enquiries for membership. In 2005 alone, the brand received over 650 membership enquiries via its website, of which only 17 hotels met the standards and earned membership for 2006. Regionally, SLH received 23 requests for membership from hotels in Thailand but only 5 became members for 2006. 91 requests were received from the U.S.A. but only 6 became members. A total of 55 requests from Italian hoteliers lead to the biggest grouping of 11 new members; finally, 30 requests from the UK and 26 from France both only delivering two members each. Although Small Luxury Hotels of the World continues to receive requests for membership in the traditional markets, the brand is making a concerted effort to expand into newer, emerging markets. This effort has already paid off for 2006 with the addition of hotels in Laos, China, South Korea and Russia. Areas of interest for future growth in 2007 are Dubai, South America, Eastern Europe, China and Japan where the brand is already in serious discussion with luxury boutique properties. The total collection now stands at 359 hotels in 59 countries, and for the first time includes a presence in South Korea, Laos, St Lucia, Russia and Estonia. See the list after the jump.
In The Americas 1. Adara Hotel at Whistler; Canada 2. Le Chateau du lac Sacacomie; Quebec, Canada 3. Dolphin Bay Hotel & Residences; San Louis Obispo, CA 4. The Inn of the Five Graces; Sante Fe, NM 5. Oheka Castle Hotel & Estate; Huntington, NY 6. Goodstone Inn & Estate; Middleburg, VA 7. Marina Inn at Grande Dunes; Myrtle Beach, SC 8. Castle Hill Resort & Spa; Ludlow, VT 9. Sivory Punta Cana; Dominican Republic 10. Discovery at Marigot Bay; St Lucia 11. Gaia Hotel & Reserve; Manuel Antonio, Costa Rica In Asia Pacific 1. Echoes Boutique Hotel & Restaurant; Katoomba, Australia 2. The Country Club Sydney; Nr Sydney, Australia 3. Island Hideaway Spa Resort & Marina; Dhonakulhi Island, Maldives 4. The Fortress; Galle, Sri Lanka 5. The Beach Negombo; Negombo, Sri Lanka 6. Banyan Tree Lijiang, Lijiang, China 7. Fuchun Resort Hangzhou; Hangzhou, China 8. Losari Coffee Plantation Resort & Spa; Central Java, Indonesia 9. Maison Souvannaphoun Hotel; Luang Prabang, Laos 10. Eros Spa & Resort Club Parthenon; Chungnam Province, South Korea 11. Hotel Hera Club Parthenon; Chungnam Province, South Korea 12. The Baan Thai Wellness Retreat; Bangkok, Thailand 13. D2hotel chiang mai; Chiang Mai, Thailand 14. The Racha; Phuket, Thailand 15. Nakamanda Resort & Spa; Krabi, Thailand 16. Aleenta Resort & Spa; Phang Nga, Thailand In Europe 1. Hoteldorf Gruner Baum; Salzburg, Austria 2. Manos Premier Hotel; Brussels, Belgium 3. Padaste Manor; Muhu Island, Estonia 4. Estate Hotel Schwarzer Adler; Baden-Wurttemberg, Germany 5. Brandenburger Hof; Berlin, Germany 6. De Hoefslag; Utrecht, The Netherlands 7. Dwor Oliwski Hotel & Restaurant; Gdansk, Poland 8. Savoy Moscow; Moscow, Russia 9. Royal Park Hotel; Bernese Oberland, Switzerland 10. Chateau de Cely; Ile de France, France 11. L'Hermitage Gantois; Lille, France 12. St Nicolas Bay Resort Hotel; Crete, Greece 13. Villa Le Scale; Isle of Capri, Italy 14. Albergo San Montano; Isle of Ischia, Italy 15. Townhouse 12; Milan, Italy 16. Townhouse 31; Milan, Italy 17. Townhouse 70 Suite Hotel; Turin, Italy 18. Masseria Torre Coccaro; Puglia, Italy 19. Inn at the Roman Forum; Rome, Italy 20. View at the Spanish Steps; Rome, Italy 21. Relais la Suvera; Tuscany, Italy 22. Grand Hotel Principe di Piemonte; Tuscany, Italy 23. I Casali di Monticchio; Umbria, Italy 24. Selenza Thalasso Wellness Hotel; Andalucia, Spain 25. Hotel Club Maritimo Sotogrande; Andalucia, Spain 26. Vincci Seleccion La Plantacion del Sur; Canary Islands, Spain 27. Mas Passamaner; Tarragona, Spain 28. The El Rodat Hotel; Alicante, Spain 29. The Goring; London England 30. Isle of Eriska Hotel, Spa & Island; Argyll, Scotland 31. La Stampa Hotel & Spa; Dublin, Ireland 32. La Sultana Hotel & Spa; Marrakech, Morocco
Our question? Who dropped out ...
Small Luxury Hotels of the World
, Official Site
Small Luxury Hotels of the World
, Five Star Alliance
---
From Doug Camp, Director of Sales and Marketing, The Hay-Adams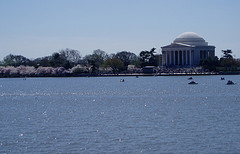 The DC Cherry Blossom Festival happens each year from March 25th through April 9th (although the Yoshino cherry blossom trees will stay in bloom a little longer than that). This year's parade on Saturday, April 8th will be hosted by Pat Sajak. Other performers include Anthony Fedorov (American Idol Season 4) and Grammy-nominated artist Martha Wash.
Doug Camp from The Hay-Adams, a luxurious Washington, DC Boutique hotel, pointed out that they are offering their Cherry Blossom Package again this year. The package includes complimentary parking, but walking from The Hay-Adams to the blossoms around the Tidal Basin a) is a great walk which includes the White House, Washington Memorial, World War II Memorial and Franklin D. Roosevelt Memorial, b) shouldn't take more than 20 minutes.
UPDATE 2 (March 29): The National Park Service's chief horticulturist Rob DeFeo now says Thursday, March 30th will be the peak bloom date for the Washington, DC Cherry Blossoms.
UPDATE: According to the National Park Service Chief Horticulturist, Rob DeFeo, the predicted peak blooming period for the 2006 Cherry Blossoms is March 27th through April 1st.
There is nothing more beautiful than the Cherry Blossoms in bloom around the Tidal Basin. Experience the beauty firsthand while enjoying luxurious accommodations at The Hay-Adams. This package is based on a two night minimum stay. Cherry Blossom Festival information, a special amenity, and complimentary parking are included. Packages start at $309.00 from March 24 – April 9, 2006.

Call the Hotel to reserve 800.853.6807
The Hay-Adams, Official Site
The Hay-Adams, Five Star Alliance
---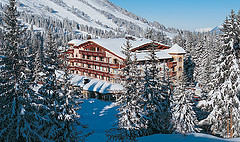 March is upon us, and for serious skiers (but those who prefer not to jet to the Southern Hemisphere during the other half of the year), this means the last days of the season on the slopes. And for some of the finest skiing in Europe-- away from Turin's still dissipating crowds-- the French Alps beckon. And the elegance and exceptional location of Hotel de Charme Les Airelles prove temptingly attractive. A grand chalet of the past, this place still embodies the prestigious old-world days of opulence and grandeur. During the 1992 Winter Olympics, Les Airelles served as home to the International Olympic Committee. Basking in its beautiful setting, with ski runs at the door, the hotel boasts an indoor pool, Jacuzzi, sauna, steam and Turkish bath.
Related Article:
NYT, "In the Alps, Wide-Open Slopes and Crowded Bars"
Hotel de Charme Les Airelles, Official Site
Hotel de Charme Les Airelles, Five Star Alliance
---
Courtesy of the NYT: Tip the housekeepers on your next hotel stay!
Perhaps because they were unseen, working in the room when the guest was gone, hotel maids were generally overlooked by many travelers until fairly recently. A seasoned business traveler would always make sure to have a bunch of singles on hand to take care of the parking valet, the bellhop, the doorman and the cabby. But the maid? ...[the physicality of the housekeeping job has] become more intense in recent years, especially as hotels in the upscale and luxury niches have added luxurious new beds and bedding. Take a look at those swanky beds. They have duvets. They have half a dozen pillows and heavy 300-thread-count sheets-- usually three sheets, rather than two, per bed. Now think about the extra work involved in making those swell beds. Yet in most hotels, the maids are still expected to do the same number of rooms a shift, usually 14 to 16.
Thus the importance of tipping. But-- in your experience-- what is the appropriate amount to tip?
---
Did they neglect to read National Geographic's damning assessment of the Costa del Sol? In Traveler's yearly Destination Scorecord-- ranking the integrity of places by creating an index of Destination Stewardship-- Spain's coast has gone to the dogs. The pressures of development, pollution, globalization, and mass tourism have held sway:
...[in] Spain's Costa del Sol—the overbuilt "Costa del Concrete," which caters to package tours from northern Europe... you can hear more English or German than Spanish. As with many uncontrolled seashores, a nonstop line of characterless hotels blocks off the coastline.
The Ritz-Carlton Hotel Company has assumed management
of one of these hotels: the 112-room luxurious Villa Padierna. Though the place has got a golf course, spa, Beach Club, and rooms full of antiques, I'm still skeptical. Good luck, Ritz-Carlton. Let's see if they can turn the tide and bring back the glamor.
---